Sun, 10/14/2012 - 09:36
Que Faire de Mister Sloane? at the Comédie des Champs-Élysées
Joe Orton's play Entertaining Mr Sloane is the stand-out leader in its theatrical field of 'camp macabre'. I can't think of many other contenders, to be absolutely honest, in this style created at the same time as this particular blog entry, but Orton's work definitely dominates the genre. Entertaining Mr Sloane is, in my opinion, Orton's best play: a brilliant study of human emotional and sexual needs that, for the less astute, can mistakenly pass for love.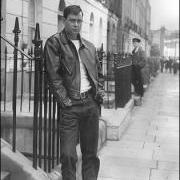 The play first opened in London in 1964, largely thanks to financing from Terence Rattigan, as Orton was not, at this point of his career, enough of a name to guarantee a hit. This all changed once Entertaining Mr Sloane opened, and it promptly transferred to the West End, and then to Broadway. In the play, a young lodger rents a room in a house occupied by a middle-aged brother and sister – Kath, an emotionally needy, 'fallen' woman, and Eddie, a businessman – and their elderly father, Kemp. Kath and Eddie quite dislike each other, Kath and her father don't like each other at all, and the simmering hatred between Eddie and his father means they haven't spoken to each other in twenty years. In to this sour domestic set-up strolls the twenty year old Mr Sloane, who swiftly becomes a focus of lust, and subsequently an emotional anchor, for both Kath and Eddie. Mr Sloane plays along with both brother and sister, and soon easily establishes for himself the dominant position in the family, to the expense of the siblings' frail and vulnerable father.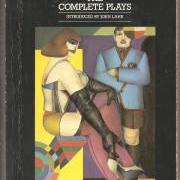 Joe Orton was gay in a time when homosexuality in Britain was still illegal, and, with the 1968 Theatre Act still four years away, Entertaining Mr Sloane was written under the glowering shadow of censorship. Therefore, despite it being abundantly clear to an audience that Eddie's interest in the amateur body-builder Mr Sloane is anything but platonic, nothing at all in the text itself is explicit. In fact, as frequently occurs under rules of censorship or constraint, this allowed Orton the fun of circumventing traps, and instead he playfully refers to naked weight-lifting, wearing little leather hats, and being "an expert on the adolescent male body". And in case these cheeky innuendos weren't clear enough, this new production of Que Faire de Mister Sloane? at the Comédie des Champs Elysées has poured over an additional thick layer of pink sparkly camp.
I enjoyed this show very much, and found myself laughing frequently – often in disbelief at the extremes and daring of the characters, but also at the excellent comic performances: Charlotte de Turckheim provides an outstanding performance as Kath, whose libido is as difficult to contain as her cleavage. Michel Fau is also perfect in his role as Eddie: imagine David Walliams if he had been brought up by the Addams Family. Mr Sloane was played by Gaspard Ulliel, a model as well as an actor, and who carries this heavy role very ably. The lighting and particularly the set are used intelligently and effectively, with a small mountain of filthy junk gradually seeping its way in to the room with each scene change. Fau, who is also the director of this production, has chosen to play the show as cartoonish and comic, and to ramp up the camp to maximum levels. At one point Eddie storms in to the scene dressed head to toe in a deep purple velvet suit, sighing and planting his hands on his hips. I couldn't believe at that point that the play could get any more kitsch, but then Eddie walked out and re-entered a moment later carrying a brightly-coloured plastic gnome.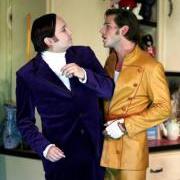 The exaggerated camp makes this production feel rather unreal, and it seems to me that Fau has done this in order to protect his audience from the darker side of Orton's drama. Thick veins of violence and some serious unpleasantness run through the play, but Fau has either removed these entirely, or has his cast so over-play them that their menace is weakened. This play is capable of leaving its audience feeling hollow and shocked, but this French production has largely skated over this potential. I won't argue here whether Fau is right or wrong to have done this – I certainly agree that the average French audience would be unlikely to respond well to the full force of Orton's black violence – but at the same time the play is capable of more depth than this production provides. As well as its humour and initial farce-like set-up, Entertaining Mr Sloane also examines the rotten underside of human frailties and needs, and features murder, bullying and rejection. In the English cast list, the description for the eponymous lodger is "Mr Sloane – a young, good-looking psychopath". Hopefully this doesn't reflect too badly on me if I say that I would rather see more of the psychopath coming out. However, my personal predilections aside, this new production is confidently directed, has an excellent cast, and has been made very, very… entertaining.

In French
Que Faire de Mister Sloane?
Written by Joe Orton, directed by Michel Fau
The Comédie des Champs-Élysées, until 31st Dec 2012
www.comediedeschampselysees.com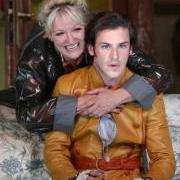 Comments or opinions expressed on this blog are those of the individual contributors only, and do not necessarily represent the views of FRANCE 24. The content on this blog is provided on an "as-is" basis. FRANCE 24 is not liable for any damages whatsoever arising out of the content or use of this blog.